Arizona is the sixth-largest state in the country and home to about 7.2 million people. The desert climate, hot summers, and mild winters make for a unique lifestyle in America's Southwest. With such beautiful natural diversity — snow-capped mountain ranges, deep canyons with towering cacti, and moderate to extreme summer temperatures, this state offers plenty of opportunities that cater to a wide variety of interests.


Residents enjoy skiing in Flagstaff and Alpine and hiking through the rocky mountain ranges of Tucson. All in all,
Arizona is a diverse state
. But why do people continue to move to Arizona in droves? Keep reading to see why people love to live in this beautiful southwestern state!
The culture and community
U.S. News
analyzed 125 metro areas in the country to determine the best places to live based on the quality of life, and Phoenix, Arizona ranked number 17 for the best place to retire and number 19 for the best place to live. While Phoenix is only one part of this great state, the sentiment extends to Arizona as a whole. It's an excellent place for young professionals to start their lives, families to put down roots, and retirees who want to spend their days relaxing outside in the warm desert air.
Arizona is also a diverse state home to different communities and provides many fascinating cultural activities to go along with them. Heavily influenced by the Indigenous cultures of the Apache and Navajo tribes and the people of Mexico, Arizona boasts some of the best educational opportunities to learn more about these cultures. Many festivals, art exhibits, and other events happen throughout the year to celebrate Indigenous cultures for tourists and locals. The state bursts with opportunities to engage in different cultures, from the hundreds of museums to historical sites, and even cuisines, Arizona has it all.


Since this desert state is popular among young people, there's a fantastic nightlife culture here as well. The state offers some of the best food, music, and clubs for people who enjoy spending their nights out on the town. Party Bikes are popular in cities like Phoenix, Scottsdale, Tempe, and Tucson, with several other activities taking place in the evening, such as moonlight kayaking and drive-in theaters. This state is also known for its broad and diverse
food scene
. Foodies love Arizona, and it's is rapidly becoming known for its culinary excellence. As diverse as the community is, there's an excellent food to match. Phenomenal Indigenous specialties and authentic Southwestern cuisine make for a perfect culinary fusion.
If you're a golf enthusiast, you'll be sure to love hitting the links at these desert courses. Arizona is loaded with exceptional golf courses throughout the state. There are 200 different locations to play golf in Phoenix alone, ranging from small neighborhood locations to world championship courses. Two notable courses include
Chiricahua in Scottsdale
and
Desert Forest Golf Club
in Carefree.
The climate
Something Arizona is undoubtedly known for is its hot climate. The
weather
in Arizona is sunny and warm year-round — the state is commonly referred to as the "Valley of the Sun" for a reason. Arizona gets approximately 300 days of sunshine each year. Phoenix receives more days of sunshine each year than any other metropolitan area in the U.S.! This place is perfect for those who don't want to deal with the seasonal struggles of cold weather since Arizona is one of the states that practically has no seasonal fluctuations. There are shorter and milder days in Arizona during the winter, but spring comes early, and flowers bloom in January.
And while it is hot, it's a
dry heat
. That means the air outside is hot, but there are plenty of cool spots in the shade, and most people don't find themselves getting sweaty. There is very little humidity due to the desert temperatures, and once the sun sets, the temperatures drop significantly — perfect for evening walks. While Arizona experiences record-setting temperatures from May to September, mornings and evenings are ideal for outdoor activities, running errands, and taking your furry friends for a neighborhood stroll.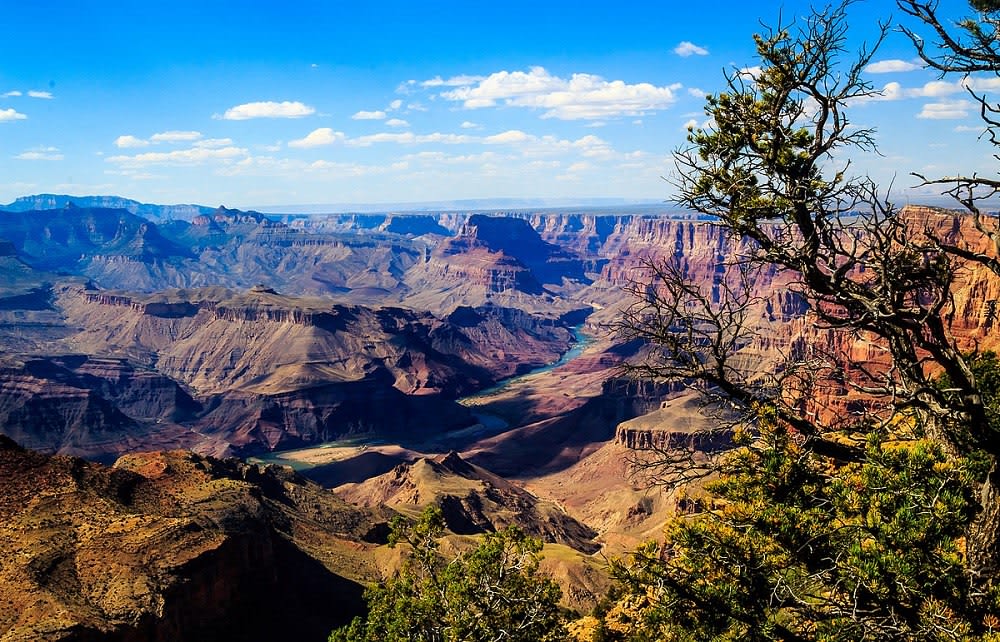 Arizona has another name: the "Grand Canyon State." Home to the famous Grand Canyon in the north, this national gem is easily one of the biggest draws in Arizona — the true definition of a natural wonder. But the Grand Canyon isn't all that Arizona has to offer! The landscape within this state is notably beautiful. It is one of the most popular states due to its accessibility for hiking, mountain biking, trail running, kayaking, camping, exploring, swimming, and even white water rafting.
The Arizona wilderness is another story altogether. There are phenomenal fly fishing destinations and beautiful reserves and forests available for public viewing — great for exploring on a gorgeous spring day. There are plenty of natural wonders, such as Picacho Peak, Havasu Canyon, Verde Hot Springs, and much more. Arizona is truly a haven for outdoor enthusiasts, with fantastic local canyons, rivers, and scenic mountain views.


All in all, Arizona is a playground of fun outdoor activities and made for those who enjoy exploring in warm weather year-round.
The liveability
One of the significant highlights of living in Arizona is liveability. Arizona has a relatively reasonable
cost of living
. For a four-member family to survive in Phoenix, the state's capital and largest city, living costs sit at about $2,700 a month, excluding housing costs. Many families who move to Arizona rent within their first year, with rent expectancy at about $1,000 per month for a two-bedroom apartment. For those who live alone, that cost of living will be cut by about $800.
Arizona homes sell for an average of $285,000, approximately $154 per square foot. Arizona has an easy-to-navigate real estate market compared to Washington DC, where the listing price is more than double. The Arizona cost of living is approximately 5% lower than the national average.


Of course, you can't entirely finance a home without a job, and Arizona has a robust job market. Since this state has one of the wealthiest economies in the United States, Arizona has strong roots in the defense and tech sector and healthcare, manufacturing, and aerospace. Phoenix and Tucson, the state's biggest cities, have several opportunities for blue-collar jobs in the industry and office fields. Both cities feature Arizona State University and the University of Arizona, two large institutions that create a wealth of job opportunities.


The financial stability and the growing job market make Arizona one of the best places to live if you are a young professional looking to settle down, start a family, or start a business venture.
Ready to move to Arizona?
If you are interested in homes for sale in Scottsdale or the surrounding communities, contact
The Schrand Team
for more information! Their team offers unparalleled real estate service and will help you find your dream home in Arizona!