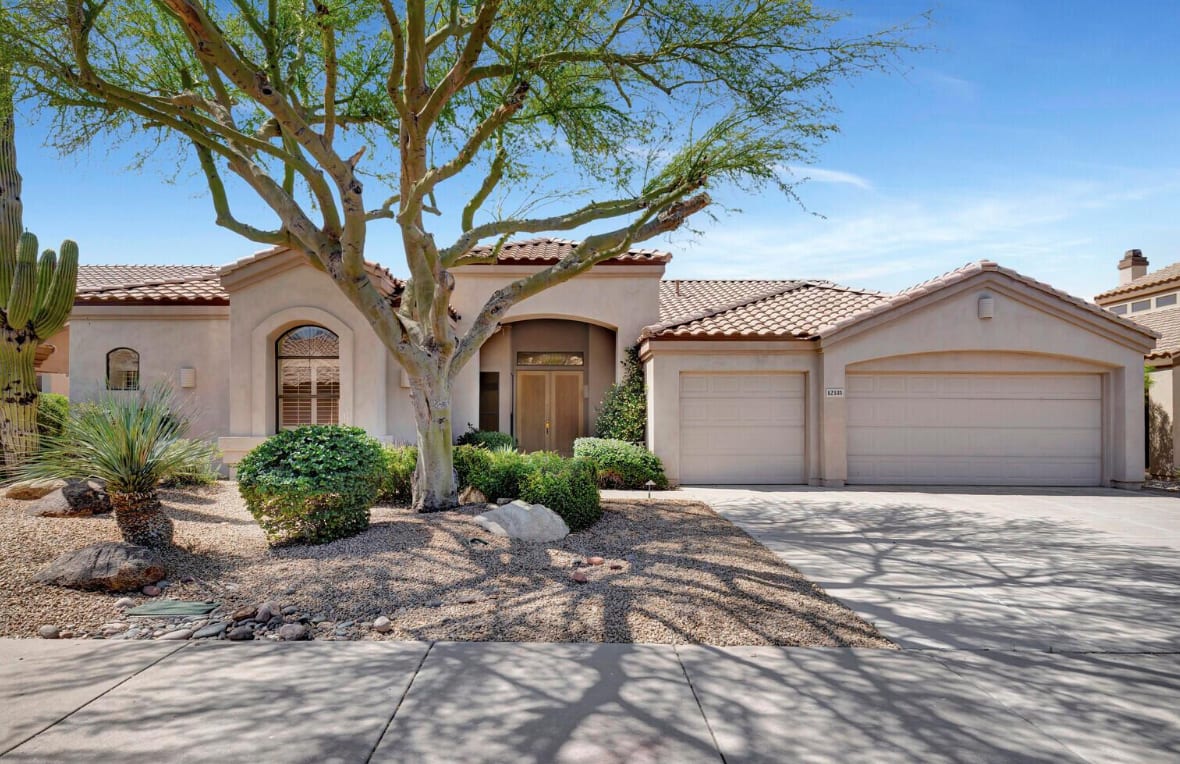 Scottsdale has a lot to offer the luxury real estate buyer. The area is known for its focus on well-being, with a climate that lends itself to a healthy and active outdoor lifestyle. There is a strong sense of community here, with buyers coming from around the world to live out their desert dreams. Scottsdale is a hidden gem of the desert Southwest. Still, it's a gem getting more attention as buyers are eager to leave behind the big city lifestyle and embrace the picturesque life waiting for them here. There are many opportunities for business, recreation, and cultural experiences, so residents here never lack options. With Phoenix on your doorstep and the airport a short drive away, Scottsdale puts you in a prime position to reach the rest of the world when you want to and hide away when you don't.
If you've been considering a move to Scottsdale, The Schrand Team is here to support you. Discover what's on offer in Scottsdale's luxury real estate market, including beautiful homes available for purchase now. This guide will also inform you about the Scottsdale community, including schools, shopping, and restaurants. We hope this can be a comprehensive guide to helping you transition to Scottsdale. However, if you have any other questions about the area or are ready to start looking for your new home, contact The Schrand Team.
Scottsdale Real Estate Market
Along with the community and lifestyle, the attractive Scottsdale luxury real estate market is bringing new residents to the area. The market here is thriving thanks to eager potential buyers looking to make a permanent move here or wanting to buy a second home for some well-deserved downtime. People love living here thanks to the relaxed vibe, resort-like lifestyle, and year-round pool weather.
Most houses sell in around a month, and buyers should be prepared with a competitive offer if they find a property they love. However, there are plenty of gorgeous luxury properties to choose from. The average home price in Scottsdale is around $800,000, but there are select luxury estates reaching prices of $32 million or more. With such a range of price points, there is a luxury home for every budget and need in Scottsdale.
Scottsdale Luxury Real Estate Overview
You'll find luxury properties of every style in Scottsdale, with many incorporating traditional Southwest architecture. You'll see many with adobe, bold geometric design, and color palettes inspired by the desert. Along with these classic designs, you'll also see homes designed in a sleek, modern style that utilizes metal and glass alongside natural materials. The juxtaposition of materials can create some genuinely breathtaking properties. Many other options are available, including properties built to suit, so you are sure to find a property that matches your desired aesthetic.
One of the unique things about Scottsdale luxury real estate is the setting. You'll find many luxury homes nestled in the hills surrounding the city, giving sweeping views of the mountains around you and the town in the valley below. This position provides property owners with jaw-dropping sunsets and uninterrupted views of the surrounding desert. Most homes also include a thoughtfully-designed outdoor pool, so you can take in the year-round sunshine and soak in the views while cooling off in the water. These desert positions are one of the wonderful reasons to buy property in Scottsdale.
Scottsdale Lifestyle
You can describe the Scottsdale lifestyle as desert dreaminess with big city access. Generally, the vibe here is relaxed, with a big focus on personal well-being and improvement. You'll find plenty of opportunities for outdoor activities such as hiking, biking, and horseback riding. There is a large community of golfers, too, with more than 200 golf courses in the Scottsdale area, making it a global destination for fans of the sport.
There is a diverse mix of people living here, too. You'll find retired couples making the most of the warm weather living alongside young families eager to send their children to top-rated schools in the area. The strong sense of community is enhanced with plenty of events throughout the year, including outdoor movie nights, yoga gatherings, and even events for your canine pals.
In general, people who live here love it. There is a reason many people who visit Scottsdale make plans to move here one day. It's a resort lifestyle coupled with access to nearby big-city destinations, so you always have what you need just a short distance away.
Scottsdale Shopping
You'll find everything from big box stores to local luxury boutiques serving the needs of Scottsdale shoppers. From home decor to haute couture, you'll find it in Scottsdale.
Scottsdale Fashion Square

. A shopping destination where you can make a day of it. There are over 200 stores to explore here, including Louis Vuitton, Jimmy Choo, and Prada. End your day by taking in a film at the mall's movie theater.

Scottsdale Waterfront. Yes, Scottsdale has a waterfront! Built along the canal system in Old Town Scottsdale, the Waterfront is a beautiful shopping center filled with high-end shopping and fine dining restaurants.

Old Town Scottsdale. Take in the quaint surroundings of a classic desert town by strolling the streets of Old Town Scottsdale. There are some lovely boutique shops and the occasional farmers' market where you can pick up fresh local produce.
Scottsdale Restaurants
Scottsdale has become a foodie haven! Diverse eateries cater to local palates with global offerings and traditional southwestern cuisine. You'll want to take time to discover all the food on offer, from the healthy fast-casual cafes to the fine dining establishments that make eating an experience to remember.

Market Street. You'll want to return to this charming development so you can try all the great restaurants. Start with

Fleming's Prime Steakhouse & Wine Bar

. This top-rated fine dining restaurant serves aged prime beef and lobster tails. It's a can't-miss for a relaxed night out.

Cafe Monarch

. Tucked away on 1st Avenue you'll find the award-winning Cafe Monarch. This is a sophisticated eatery offering prix-fixe menus and an elegant atmosphere. The four-course menus are changed regularly to reflect seasonal offerings.

Ocean 44

. You'll need to book a table well in advance if you want to try Scottsdale's premiere seafood restaurant. Focusing on sustainable fresh seafood, the menu allows diners to personalize their experience, making every meal unique.
Things to Do in Scottsdale
Looking for something to do in Scottsdale? The area is buzzing with entertainment. You'll find something to do whether you want heart-stopping excitement, the ultimate day of pampering, or something in between.
World-class entertainment comes to the heart of Scottsdale. Attend a performance at the

Scottsdale Center for the Performing Arts

. The center hosts everything from gospel choirs to intimate evenings with Broadway performers.

Take a lap at

Racing Adventures

. Racing fans can live out their Top Gear dreams. Take a McLaren, Porsche, or Lamborghini out on a race track and see what these vehicles are capable of when let loose.

Spend a day relaxing at Joya Spa

. This 31,000-square-foot luxury spa is the ultimate indulgence. Book yourself in for a day and enjoy the sauna, steam room, and whirlpool before going to an elegant treatment room for a facial or massage. There are many pools to dip into and an incredible restaurant serving beautifully balanced meals.
Schools in Scottsdale, AZ
Scottsdale has a wonderful array of top-rated public schools, charter schools, and private institutions. The schools in the area strive to offer a well-rounded education to welcoming and inclusive students.
Desert Mountain High School

. Grades 9 through 12, serving 1,750 students. Despite the large enrollment numbers, DMHS maintains a healthy 20:1 student-to-teacher ratio. The school offers various extracurricular activities, including a school newspaper, athletic program, and media studio. They also offer AP classes. The school is currently ranked as the top school in the Scottsdale Unified School District.




Cheyenne Traditional School. Grades pre-kindergarten through 8th grade, serving 859 students. This is the #1 elementary school in the district and one of the top schools in Arizona. The school's philosophy is to make the most of classroom time, which appears to be working as more than 80% of students test at or above standards in reading and math.

Rancho Solano Preparatory School

. A private school serving students from pre-kindergarten through 12th grade. The school caters to high-achievers and works to tailor the setting to the individual student's needs. They offer an International Baccalaureate Diploma Program and encourage character development alongside academic performance.