Scottsdale is part of the Phoenix, AZ metropolitan area and occupies about 185 square miles with a population of roughly 260,000 residents. It has been one of the fastest-growing cities in the nation over the last several years. The city is often called "The West's most western town" and hosts many events that honor its history.
For example, the
Scottsdale Arabian Horse Show
brings in a number of tourists and residents who want to revel in the grace and power of about 2,000 purebred and mixed Arabian horses as they compete for prizes and recognition. Scottsdale also has its own
culinary festival
and
film festival
, as well as a large number of art galleries and studios, and is one of the country's largest art markets, behind Manhattan and Santa Fe.
The
median price
of Scottsdale homes for sale is around $850,000. The area is experiencing a seller's market, which means that housing inventory is lower than the number of buyers in search of Scottsdale houses for sale. Sellers could receive multiple offers for their Scottsdale homes for sale or offers above the asking price. We have put together some short- and long-term housing trends in the Scottsdale area to help you keep ahead of the curve.
What's the current housing inventory?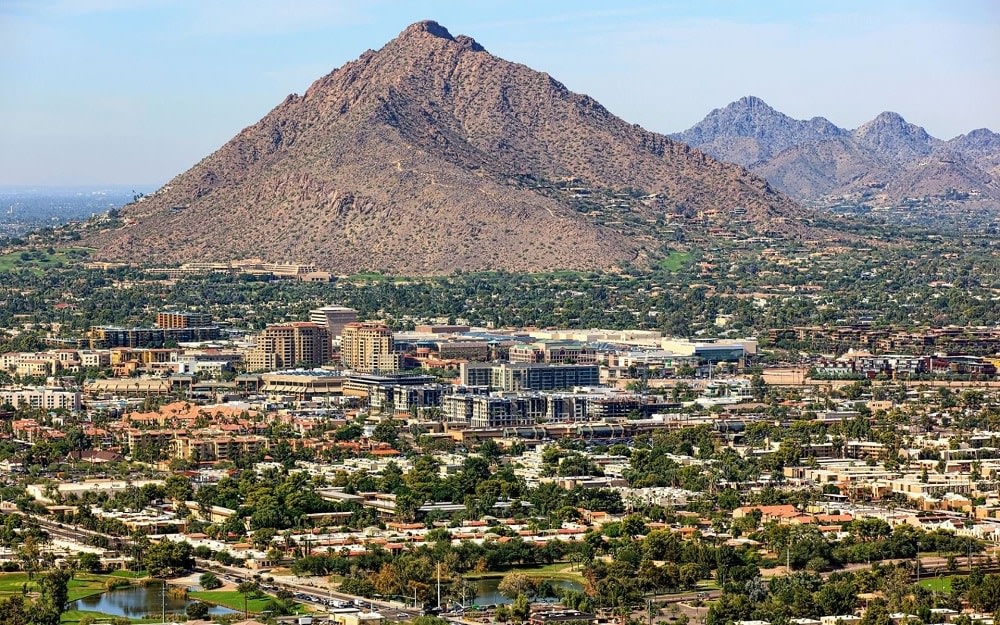 Photo Courtesy of Mashvisor
Between February and March 2022, the number of active home listings increased by a staggering 8.3%, and the average number of days on the market was 30. Additionally, in the same time period, listing prices of Scottsdale homes for sale increased by roughly 24%. Sun Belt markets have historically been attractive for retirees and snowbirds, but these days the market is being flooded by newcomers from wealthier states like California and New York. People are drawn to the area's sunny skies, gorgeous desert scenery, and perfect balance of suburban quietude and urban amenities.
How affordable are homes?

Scottsdale and its surrounding areas saw a massive jump in prices in 2021, measuring 32% higher than in 2020. 2022 is not maintaining that trajectory, but the market is still rising at an aggressive pace, with industry experts forecasting that housing prices will increase by at least 20%. These ongoing trends may put a damper on buying options for first-time homebuyers, but there are plenty of wonderful Scottsdale homes on the rental market for those who want to test the area out before deciding on their next purchase.
Is it better to rent or buy?

Newcomers to the area, as well as residents relocating within Scottsdale, may choose to rent instead of buying to "wait out" the rise in home prices in hopes they will eventually drop. As with all cyclical trends, they will fall, but the question is, "when?" With that answer still unknown, renters will be aiming to find a rental property that's bigger than a standard apartment, perhaps a standalone single-family home with a yard or an extra bedroom or two, so they don't feel like they're stuck in a hotel room waiting for escrow to close. Renters in this category will add their own level of pressure to the rental market and cause rents to increase as well.
What if I'm selling my house?
If you're a seller with one of the rare Scottsdale houses for sale, you're in the driver's seat and can likely sell your home for your asking price. However, that doesn't give you carte blanche to be complacent. Price your home within the same range as
comparables
in your neighborhood, and rest assured there will be plenty of buyers lining up to make an offer. A seller's market means that you should be ready to move quickly, not just in selling your home but also in having a place to move into (an apartment, short-term stay hotel, new home, or with relatives) lined up.
What if I'm buying a house?

Be ready to move fast when you find your next home. In a seller's market, you've got lots of competition for every single house available for sale. Get pre-approved for a mortgage and have all your paperwork in order so your offer isn't delayed while you wait for a home loan to go through. Have your existing residence ready to list the minute you buy your new home if it isn't already listed. As with sellers in a seller's market, make sure to have backup housing confirmed, so you have a place to go if there's a delay between selling your home and closing on the new place.
What's ahead for the market in the short term?
Housing analysts note that short-term forecast trends for Scottsdale real estate are strong. As of
April 2022
, median house prices fall just shy of $900,000, with that figure steadily increasing each month. Homes for sale in Scottsdale are worth 25% more than they were in April 2021, showing a market that is consistently competitive and sought after. In the current market, properties are snapped up quickly and
at or above their asking price
.
What's ahead for the market in the long term?
Arizona's weather and relatively low property tax rates will keep new residents flocking to its borders for many years to come. Additionally, each metropolitan area offers physical land room for growth, unlike cities and states such as Manhattan and Hawaii. Given the cyclical nature of residents moving to the state to retire, there's a higher real estate turnover simply due to lifespan that many other states do not experience. Finally, how often do you hear about people moving from warm/hot climates to cold climates? Rarely. Everyone wants to live where it's sunny and warm, and Scottsdale personifies that perfect place.
Are you ready to take the next step and buy
homes for sale in Scottsdale
or sell your own property? Reach out to one of the experienced local agents on
The Schrand Team
for guidance.