Luxury Homes for Sale in Scottsdale AZ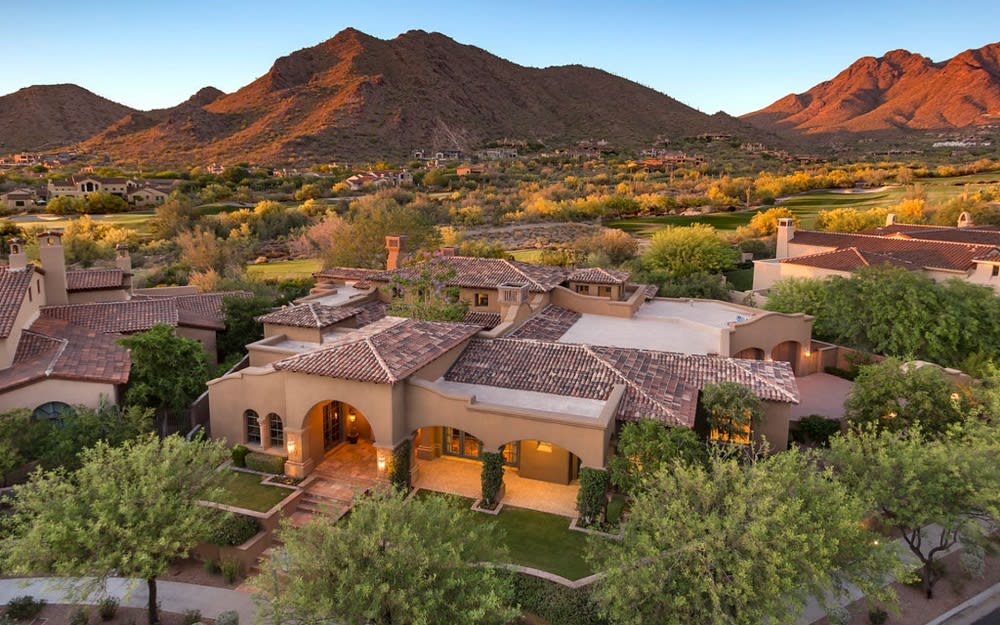 Why You'll Love Living in a Scottsdale Luxury Home
Named as one of the most desirable places to live in the American Southwest

Gorgeous homes with ample-sized lots that take advantage of stunning desert vistas

Well-planned communities offer desirable amenities along with quick access to Phoenix
Scottsdale Real Estate Market
The Scottsdale real estate market is thriving. Buyers are moving to the area from other regions of the American Southwest because they want to enjoy the lifestyle and community available here. That's also bringing buyers from across the United States and around the world. They are seeking the laid-back warmth of the desert lifestyle.
You'll find a wide range of homes, with an average price of around $800,000 and premium properties fetching $30 million or more. Scottsdale properties tend to have generously sized lots with homes influenced by classic Southwestern architecture. Amenities abound, with heated outdoor pools, home gyms, and private cinemas standard in many communities.
If you'd like to learn more about the Scottsdale real estate market and how it can meet your needs, contact the Schrand Team to see current and exclusive listings in the area.
Scottsdale Luxury Lifestyle
Scottsdale is largely considered one of the best places to live in Arizona. Properties in the area predominantly appeal to luxury buyers, with many homes starting in the seven figures. With exclusive amenities and unrivaled attention to detail, even the most discerning buyers will find a property they love in the Scottsdale area.
It's not just the properties you'll fall in love with here. Once you experience the Scottsdale lifestyle, you'll never want to live anywhere else. The peace you find in your Scottsdale property extends beyond your front door to the community at large. With top-rated schools, ample shopping, five-star dining, and access to big-city amenities, you'll have everything you want at your fingertips. And it's all set within the tranquil desert setting.
The lifestyle offers a laid-back approach to life that focuses on personal well-being. You'll find many residents attending morning yoga classes, dining in one of the city's many health-conscious restaurants, and spending their days making the most of the year-round resort-style weather. Common hobbies here include golfing, hiking, and biking. The community is welcoming, so you'll have no trouble finding people to share your time with as you explore everything the area offers.
Scottsdale is actively recruiting new businesses by offering incentives for corporations and retailers to make the area their new home. That means there are always new opportunities in the area, whether you are seeking investment, a new career, or more entertainment options.
Scottsdale Luxury Home Amenities
Scottsdale offers luxury home amenities that rival and surpass those you'll find in other exclusive areas across the country. Homes are thoughtfully designed and built by the nation's top builders. They've ensured that the properties in the area can deliver on premium expectations, paying careful attention that every detail is just right.
It's no surprise that the stunning desert landscape takes center stage around many Scottsdale properties. Properties are thoughtfully landscaped to bring the desert's natural beauty to your doorstep, showing Mother Nature's incredible palette of color and texture. Floor-to-ceiling windows flood homes with light, giving residents unparalleled access to the desert sunrise and sunset beauty.
Many homes have tranquil outdoor living spaces, too. These spaces may include fully equipped outdoor kitchens and dining areas that allow you to expand your living space. You can take advantage of warm days and cool evenings in beautiful courtyards and terraces. Pools offer a place to cool off from the summer sun, with plenty of space around them to entertain your family and friends.
The list of amenities continues when you step indoors. Kitchens in Scottsdale are intuitively designed to provide gourmet chefs with everything they need at their fingertips. Ample storage, walk-in pantries, pot fillers, and wine fridges make the kitchen a space to create culinary magic and lasting memories.
Step inside Scottsdale bathrooms, and you'll find spa-like spaces designed to help you start and end your day on a peaceful note. Wander through these bathrooms to discover deep soaking tubs, large walk-in showers, and walk-in closets that feel like showrooms. Underfloor heating ensures you stay comfortable throughout your morning and evening routine, while towel warmers are on standby to wrap you in warmth.
Scottsdale properties focus on delivering the space you need to live your best life. This means providing the room you need to entertain, gather, and create. You'll find rooms in many Scottsdale homes specifically designed for hobbies and interests such as crafting, gaming, and sports. Your entire household will have the space to study, relax, and pursue their interests without feeling crowded. Yet, homes include cozy gathering spaces where you can come together as a family to enjoy your favorite activities.
Luxury properties in Scottsdale are unlike anything else you'll find on the market. They are built to dazzle, from the exterior settings to the interior amenities. If you'd like to see these beautiful properties in person, contact The Schrand Team or Nadia Alden to schedule your viewing.
Scottsdale Luxury Home Architecture
Many Scottsdale luxury homes are nestled into the city's foothills. This gives the homes incredible views. Gaze out your floor-to-ceiling windows during the day and admire the desert landscape, full of color and abundant with wildlife among a rugged mountain backdrop. Step out onto your terrace to take in the night sky or view the city's twinkling lights below.
The predominant architectural style in Scottsdale draws inspiration from classic Southwestern design. These homes utilize the desert color palette and bold geometric design to create gorgeous unique living spaces. Many make ample use of natural materials, as well. You'll find many homes with adobe-style exterior walls, clay tile roofs, and wooden beams inside and out. You'll see many homes in the Spanish Colonial Revival style, with hallmarks of beautifully landscaped courtyards, ironwork balconies, and arched passages.
Modern architecture has also left its mark on the Scottsdale real estate market. These structures are primarily made from steel and glass, incorporating natural details inside to soften their geometric exteriors. These homes make the most of the scenery around them, utilizing glass walls to reveal all the glory of the desert view beyond.
Many luxury homes make the most of the resort-like Scottsdale weather and include ample outdoor living space. Landscaping often includes water features to enhance the feeling of bringing nature's abundance to your door. You'll find courtyards centered around fountains or firepits, while balconies offer peaceful retreats with premium views.
Scottsdale Luxury Home Top Listings
The Schrand Team is ready to help you find a luxury home in Scottsdale. With decades of combined experience and hundreds of sales within this niche market, they understand how to find and negotiate for the best property possible. Discover some of their most impressive recent sales.
6800 E Blue Sky Drive
Designed by the Toll Brothers, this gorgeous property includes a private one-bedroom guest house. The stunning kitchen includes a butler's pantry and gives way to a family room with a cantaro stone fireplace. The primary suite has a sitting room and a private gym. Exit the home to take in a resort-style pool with a waterfall, two outdoor kitchens, ample outdoor seating space, and a full bathroom. Head back inside to relax for the evening in the home's seven-seat private cinema. This home has room for everyone and plenty of amenities to meet every need. Recently sold for $2,295,000.
7772 E Santa Cantalina Drive
This four-bedroom, 5.5-bath home sits on just shy of an acre. The surrounding desert offers incredible sunset views. The spacious primary suite sits apart from the guest wing, which includes three ensuite bedrooms. Custom cabinetry in the gourmet-style kitchen creates plenty of storage space, and the oversized island gives guests a place to gather while you cook. The home provides bonus spaces perfect for a home gym or office. Step into the backyard to enjoy the built-in BBQ overlooking the stunning pool area, complete with a waterfall and grotto. This home feels like a private oasis. Recently sold for $2,400,000.
6045 E Carriage Drive
When views are a priority, this is the type of property you want to buy. The spectacular views wrap around this home, giving you stunning desert landscapes from every window. A long driveway provides this home with complete privacy, making it a retreat for the whole family. Step inside to view an airy living space with a stacked-stone fireplace. The balcony offers a hot tub where you can warm up during chilly desert evenings and admire the sunset. The home also includes an in-law suite with a kitchenette, perfect for guests or a live-in nanny. Recently sold for $1,330,000.